On the 8th and 9th of April 2019, 37 inroads members gathered in Kathmandu, Nepal, for the first Asia & the Pacific Regional Member gathering. The members came from various legal, medical, political and cultural environments to represent their abortion stigma-busting work from diverse contexts within the nations of Bangladesh, India, Indonesia, Malaysia, Nepal, Pakistan, Philippines, Sri Lanka, Thailand. Nepali inroads members welcomed everyone, playfully adding that inroads members were visiting the so-called "abortion capital" of the world where abortion is legal, though of course still an uphill battle when it comes to stigma.

"We need alliances of people from different intersections who have had abortions to be the leading voice"

Everybody came together for this two-day interaction which involved digging deeper into the intersections of abortion stigma in Asia. The participants explored some of these intersections: youth, unmarried people, medical abortion, trans and gender nonconforming people, HIV + community, remote & rural folks, religious leaders and institutions; and the ways we can build networks of support in the movement for safe, legal and stigma-free abortion.

We also explored the possibilities that creative approaches, technology, story-telling, memes and animation offer us in our work. These conversations led to parallel discussions about self-care, the importance of finding unity between organizations working on abortion, on creating alternative power structures and fundraising mechanisms within our communities, organizations, and movements.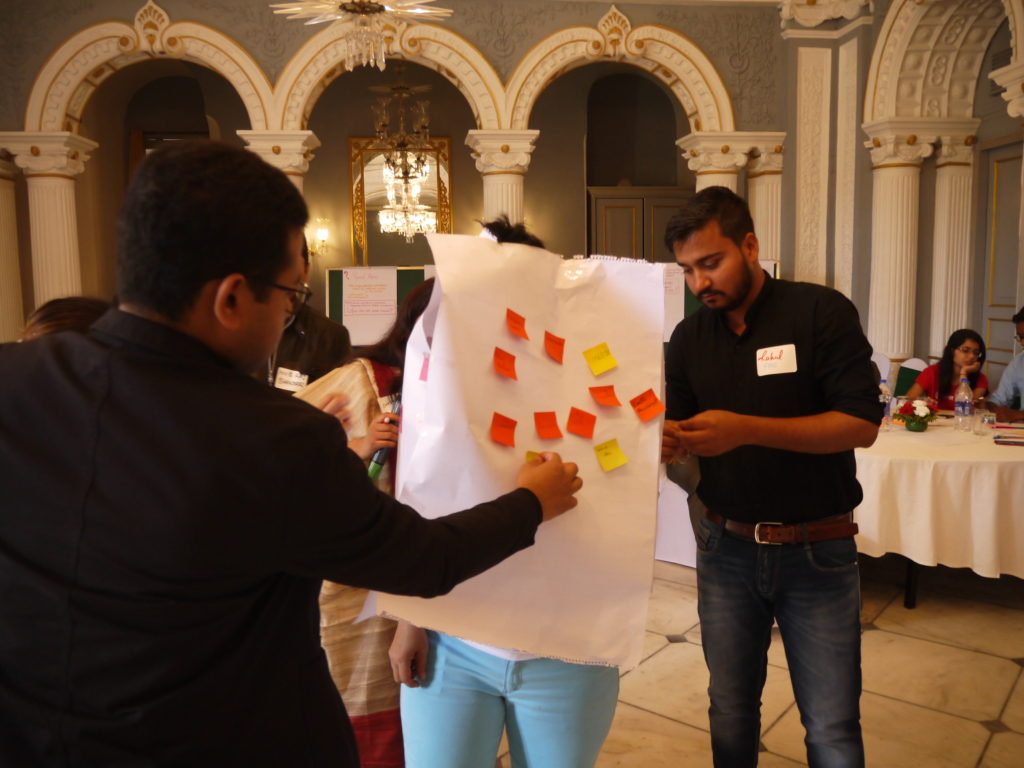 "It is good that we are identifying loopholes in our work; from these will emerge our contextual and creative work."
Members began our meeting by collectively investigating and naming the very intersections of abortion stigma that shape their work. Supecha from Thailand presented a theatrical intervention in which a ghost-like figure moved around the room covered in paper, and asked other participants to stick words on the paper answering the question "who leads abortion stigma busting work?" Words such as activists, organizations, governments, feminists were stuck all over the sheet, until one moment when the paper exploded and a voice emerged from the middle asking "Where are the voices of people who have had abortions in our movements?" Shreejana from Nepal added "Only tapping into certain communities will not help. What if a trans-man or a disabled person needs an abortion?" Uma from India also joined in saying "What about the emotional journey of someone from various intersections who has an abortion? How are we dealing with feelings?" and Red from Philippines asked us "How do we talk and bring unity amongst groups fighting for social justice or reproductive rights on abortion?" These questions and others were a foundational framing of the discussion, and served as a guide throughout the two day series of workshops.
" Flow like a wave, share like a transmitter, get stuck in a jam, yet together lift up the sky"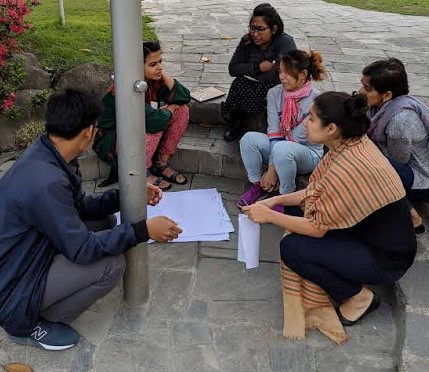 The varied conversations, ideations and sharings about abortion stigma took place in forms that were just as diverse, shifting in tone and approach to the subject based on both organic and facilitated groupings and presentations. We broke tensions and barriers through ice-breaking games and energizers which involved a traffic jam simulation, passing a waves of energy in various forms, lifting the sky up together and sharing songs and poetry, as a way to centre our experiential-human selves rather than our expertise-professional selves.

We did some large group topical discussions, with a pre-planned group of discussants to start us off, and we also split into smaller groups to share more. After larger discussions we practiced 1-2-4-all, which begins with individual reflection, moves to reflection in pairs, and then to groups of four, before coming back to the larger group.We also did a fishbowl exercise, where we practiced a deep-dive conversation into a selection of questions at the intersections of stigma, which we came up with at the beginning to frame the remainder of of the meeting. Exploring these questions, attendees were able to share and listen across contexts to both identify the biggest questions that stand before us in the region, and attempt to work together to answer them. The big questions about intersectionality, misogyny, and religion helped to unify and understand one another as a broader region before the group again retreated down the winding path of self reflection and sharing in a Personal Lifeline Process. The activity guided members through a personal and introspective process, working through their own lived experience as a way to map their relationships to sex, abortion, stigma, and how their own personal journeys have led us all to arrive together in Nepal as people who are committed to doing the work of asking questions to bust stigma. In the afternoon of the first day we exchanged ideas and materials in a flea-market style exchange festival and on the second day we improvised and created space for ideas that had not yet had a place in our Open Space sessions.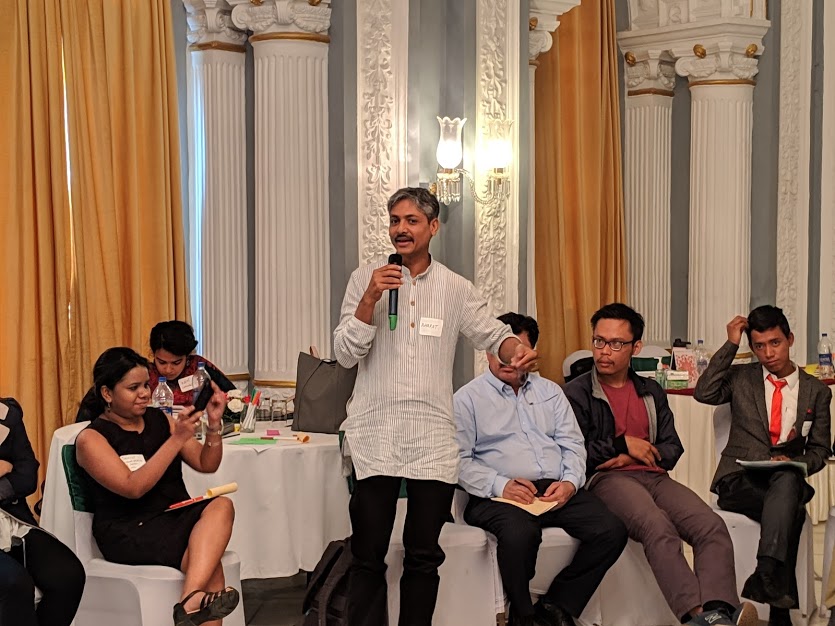 The purpose of these different styles of sharing was to ensure that people had the chance to meet and connect on many levels about the ways that stigma is showing up in our lives, community, work, and ourselves. Suchitra, Steering Committee member holding the Asia chair, who also is a practicing gynaecologist and the Coordinator and co-founder of the Asia Safe Abortion Partnership reminded us that we also had to break down hierarchies of knowledge that continue to undermine medical abortion, self-abortion and midwifery, by upholding in-hospital and doctor led abortions as the only safe and respectable way for people to have abortions. In sharing to the group she made the powerful statement that challenges the medicalization and " human rights approach" to abortion, stating that "We should work such that one day we can grow misoprostol in our kitchen gardens. It is a plant after all and our region is rich in plant diversity!"

"We come from diverse contexts yet a strategy we can have in common is undoing colonial policies and fighting religious narrow-mindedness with real stories, secular narratives and true alternatives."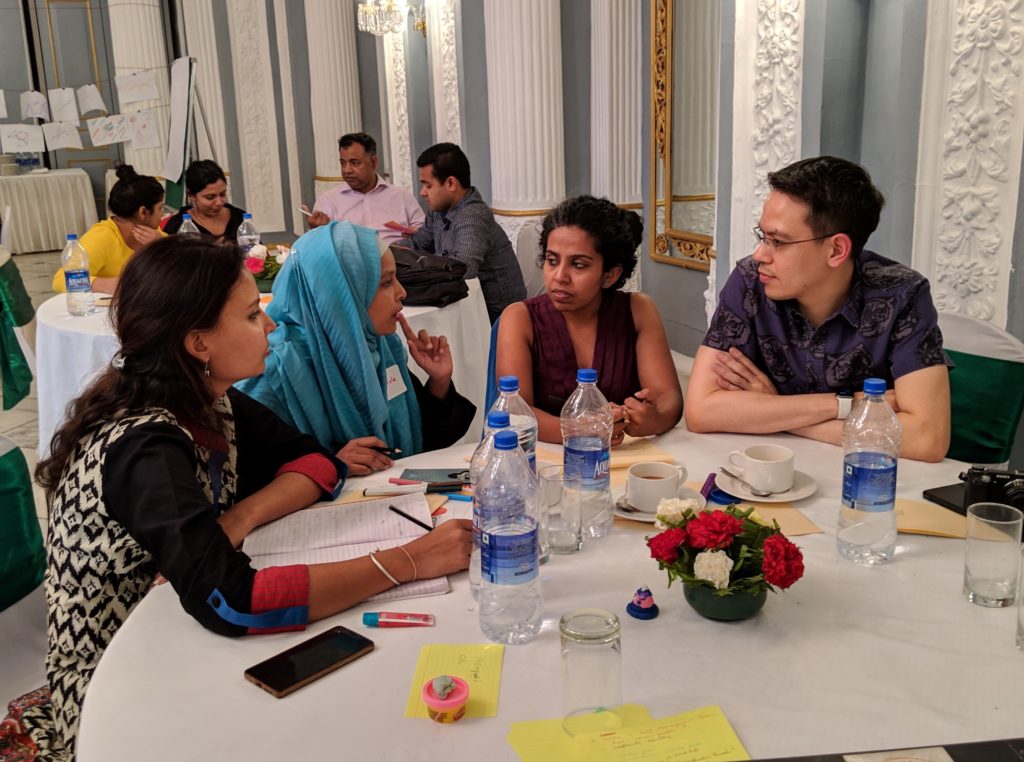 We gathered in order to share and connect, remove the distance and barriers that prevent collaborations as well as build a space where we can workshop our challenges and ideas. In the evaluation of the meeting, which was sent out as a form after the meeting, a member wrote "We worked together, we selected topics our interest, we discussed lot on our self selected topics, we learnt lot through interactive discussion" while another member shared that "Like every inroads gathering I have attended in the past, this one enabled a space for me to think about the big picture of issues that I often don't get to do in my everyday work. I really appreciate this time and space to think more deliberately and take back ideas and insights back to my work." Some feedback for improvement mentioned involving more diversity across the region, as this meeting had more South Asia members than South East Asia. At the same time, a member wrote that this meeting changed them in order to "push further the discourse of self-managed medical abortion in [their] context and keep the discussion going on changing larger systemic issues on radical intersectional work on abortion."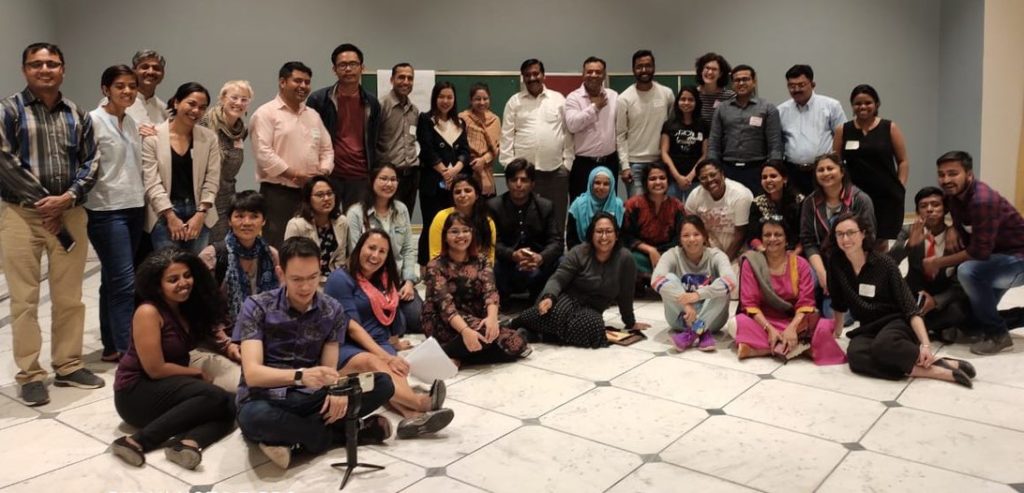 Throughout the two days, there was intense chatter across the large hall, the outside garden as well as the lunch space. Some members carried these conversations on into the last night where we gathered for a small dance, drinks and light dinner party. On a musical note of reggaeton, bollywood hits, philippines pop, balochi tunes and sindhi rhythms, our two days of interconnectedness came to a close.