During the month of July, we decided to experiment with new programming for our members within the inroads network. Over the years, the inroads team has been interested in facilitating and creating exchange spaces for members who work at stigma-busting through the arts. The arts is understood so differently across the world, but one thing we know for sure is that inroads members are often engaging with each other and their communities in creative ways! Furthermore, the inroads online poetry open-mic that was held in the month of May, had given us the sense that we could be doing a lot more in terms of exchanging multimedia art in an online space, across the membership.
So, we launched the first inroads Meditation on July 2 2019. We chose the topic of self-managed abortions for these four weeks of creativity, and pulled together a library of resources to teach us more. The name Meditation (rhymes with medication!), came from the idea of creating a simple space and time for us to reflect on abortion stigma-busting within ourselves and outside, with creativity and clarity.
Many inroads members enthusiastically signed up, and during the course of the month we saw art works from members in Bangladesh, Benin, Brazil, Ghana, India, Ireland, Malawi, Mexico, Nigeria, Pakistan, Spain, Switzerland, Turkey, USA and Venezuela! We do know that a lot more members would have loved to join in, but due to prior commitments or the fact that it was a month-long workshop, many did not manage to participate. Nevertheless, we have compiled all the photos from the first inroads Meditation into an online gallery.
Week 1: taking our abortion journeys into our hands
Everyone traced out their hands on a piece of paper, wrote 5 words on the left hand that reflected stigma in their specific cultural contexts, and 5 words on the right hand that reflected the possibilities of self-managed abortions. One of the fun resources for this week was the video created by Women Help Women. We also read an article that helped us frame self-managed abortions written by Steering Committee members Kinga Jelinska, Joanna Erdman with Susan Yanow and looked at a visualisation of the Medical-Industrial Complex.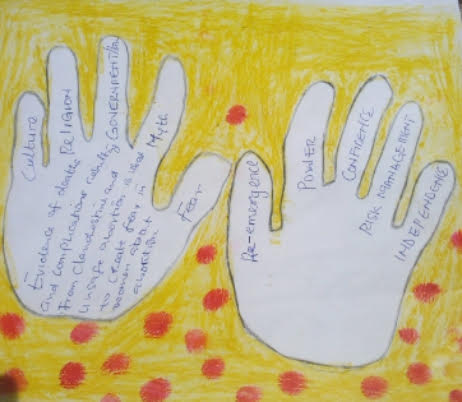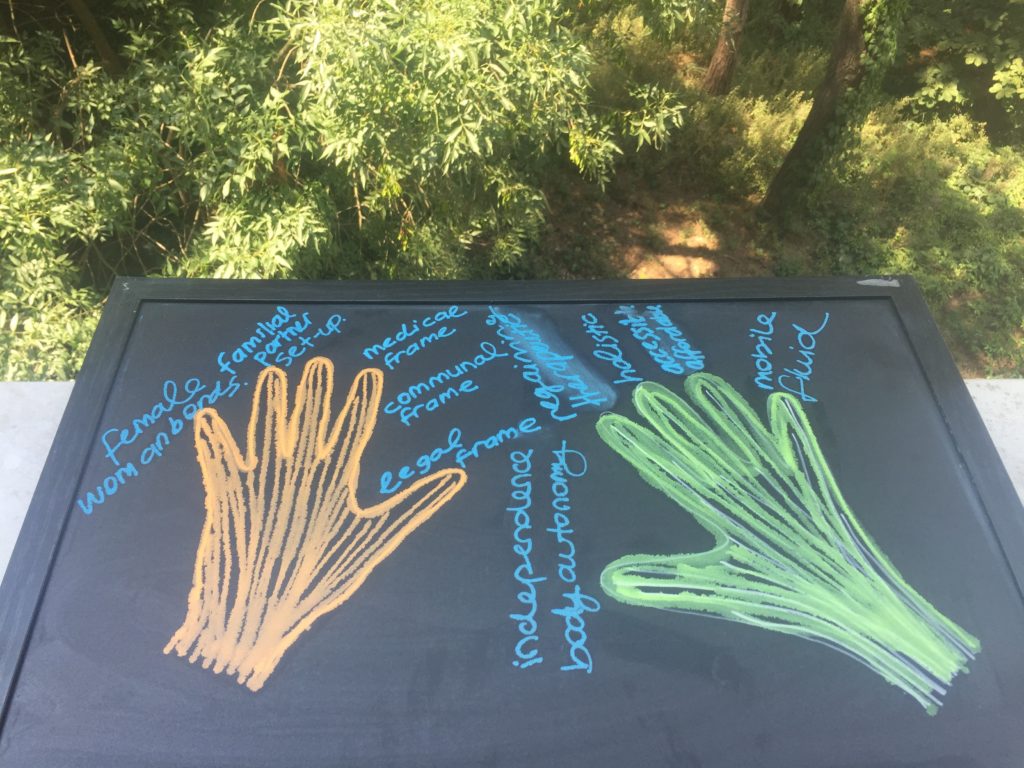 Week 2: The history of self-managed abortions
In Week 2, we made triptychs (a series of three images), either in the form of drawings, words or photo collages, to portray the past, present and future of self-managed abortions in our contexts. As resources, we looked at the comic strip on 4,000 years of Abortion by Sarah Mirk and Chelsea Saunders, a zine on inclusive , self-managed abortions by the Reproductive Health Access Project as well as an article titled Las hierbas de la emancipaciōn by Marina do Pico.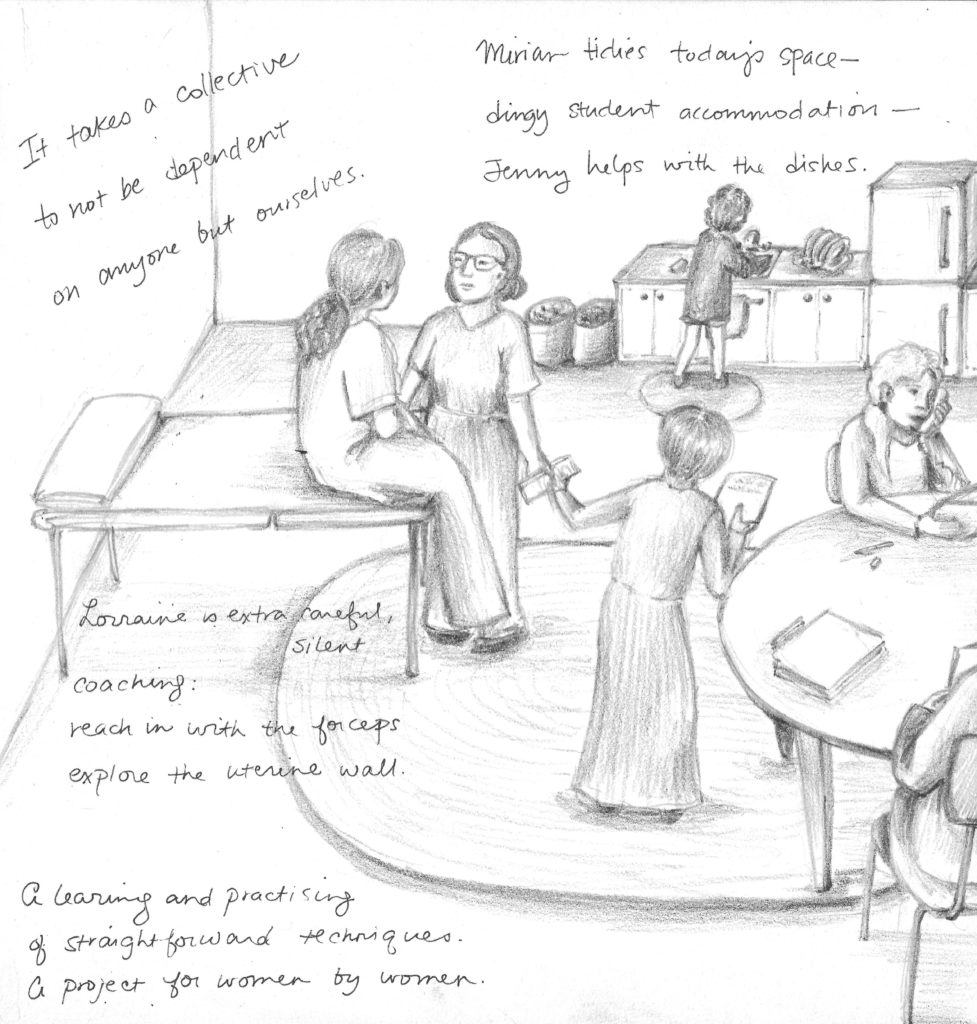 Week 3: Self-managing information around abortions
In Week 3, the meditation prompt was about self-managing knowledge. Oftentimes institutions, legal systems and the media propagate false information and thereby generate stigma around abortions. Each participant chose a piece of data: either a statistic, story or statement and designed a poster or GIF using that information. We looked at the WHO guidelines on self-managed abortions (Page 25 and 40), Women Help Women's archive of self-managed abortions in the press, and many examples of posters and GIFs on the internet.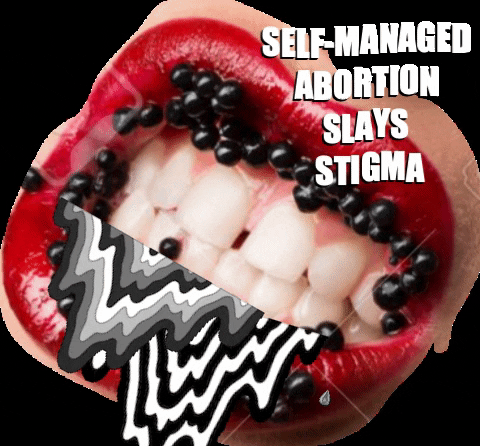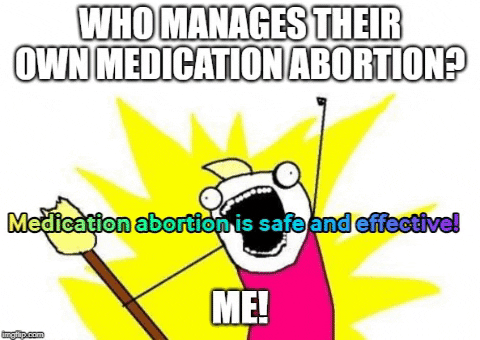 Week 4: Our role in a self-managed abortion ecosystem
For the final prompt, in Week 4, we drew out our possible role in a self-managed abortions paradigm. We read Deepa Iyer's blogpost on a social change ecosystem, looked at an article on SMA through a Reproductive Justice lens, by Marlene G Fried and Susan Yanow, to understand the connections between the collective and self, as well as several articles on the role of researchers, counsellors, companions and community advocates for self-managed abortions. And we drew self-portraits and our own roles and values for a self-managed abortions world.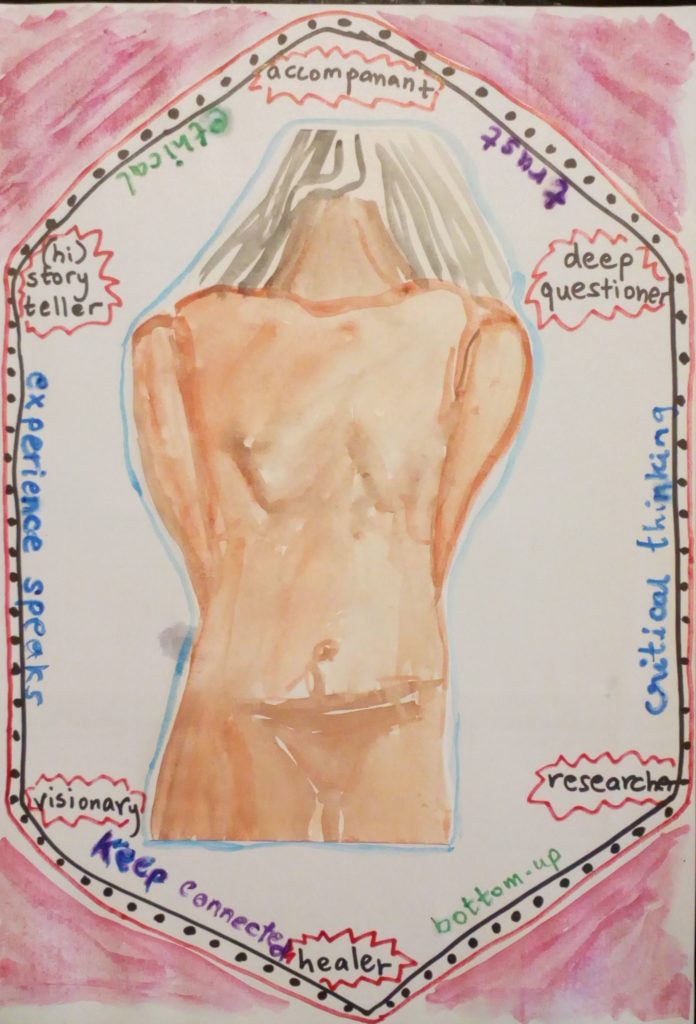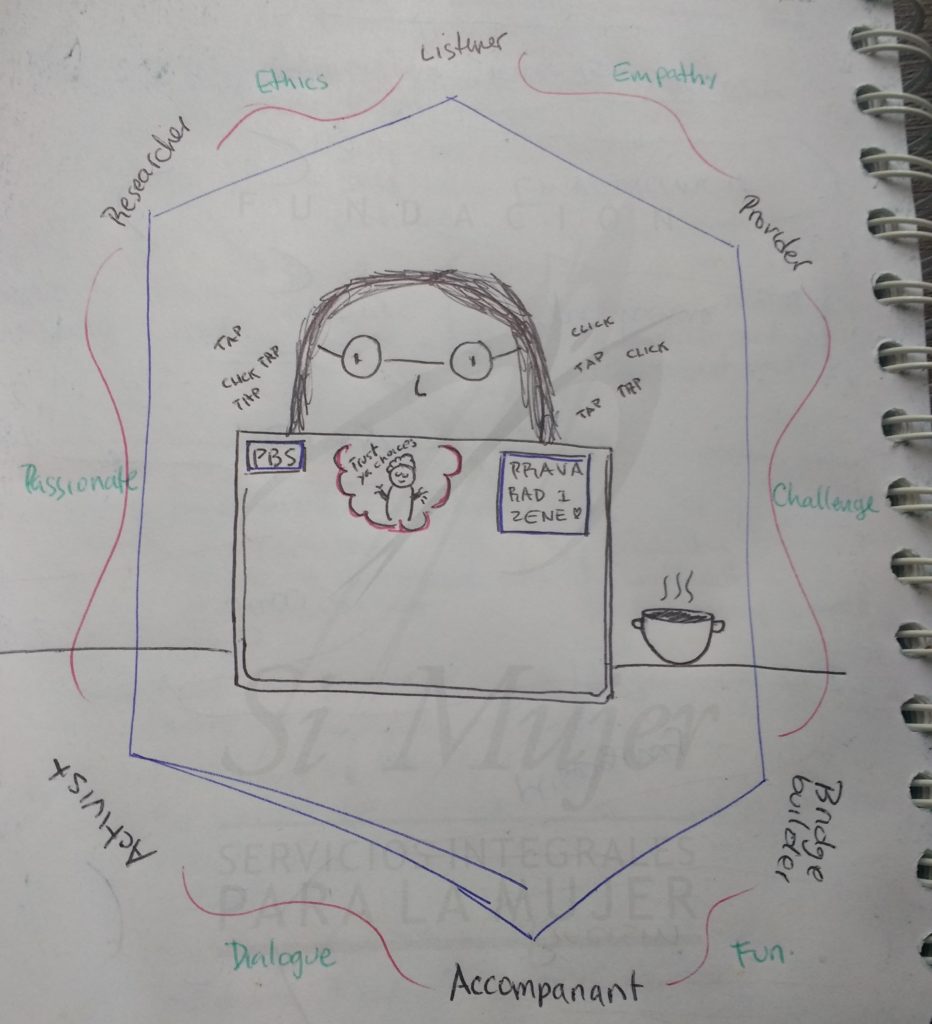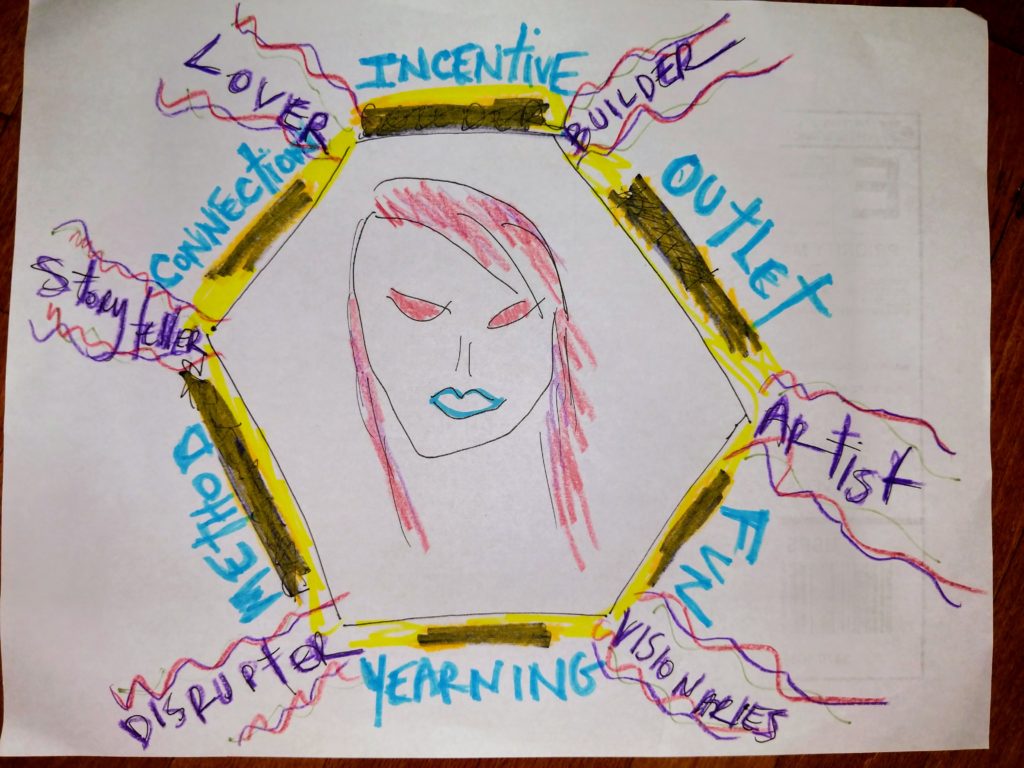 Reflections and Meditations
The month- long workshop generated a lot of learning and reflections within the sub-community. The feedback from the evaluations revealed that the process of meditation with clarity on stigma around abortions was appreciated by members.
I realised the importance of taking time outside a work setting to think about and reflect about abortions. The resources shared during the month allowed me to learn and reflect deeply, and I value so much this time to expand my perspectives.

Genesis, Venezuela
For me, the act of meditating and sitting out to draw especially around abortions became quite emotional and I could not always complete the activity according to deadlines. At the same time, I value being able to learn and connect with people across the globe about their contexts, which is not always possible when we are so far apart!

Mel, Brazil
The sessions allowed members to connect across their different contexts, with a collective focus, and learn from each other. And participants found clarity in some way while there were also questions that came up.
I enjoyed stepping out of just the US context, and learning from other contexts. I also loved the person to person connection and intimate nature of the inroads Med sessions. One question I am left with though is what happens when self-managed abortions are left in a private or secretive realm? There is a need to connect with a larger community, or else it could be a very lonely experience for someone to manage their abortion.

Karen, USA
Lastly, the creative methodology permitted that members could look at busting abortion stigma with a renewed energy and feeling more empowered.
I come from a context where, with religious dogma, even saying the word abortion is taboo. Furthermore, I work in IDP camps in places of extreme violence in Nigeria where there is so much rape and sexual abuse. Sometimes we struggle on where to get information from. I loved every aspect of this activity and learned a lot. I especially loved the act of drawing a monster eating up stigma. That is exactly what we need to do; we should be strong enough to eat up all the stigma!

Omodele, Nigeria
SMA = GOOD, GREAT, THE PAST PRESENT AND FUTURE!

Viva, USA
The inroads team will be planning more inroads Meditations in the future and really look forward to reflecting and creating more with all members.