This year brings us a group of committed individuals who have spent many years of their lives fighting abortion stigma, and who are now coming together from a wide range of geographic and work experiences to strengthen the inroads network. Each and every Steering Committee member juggles many stigma-shattering roles and is an active voice against abortion stigma.
The inroads communications team asked each member of our new Steering Committee the following question. "What is a powerful and stigma-busting text or media that inspired you in 2018 that you wish to share with the inroads Network for the new year?" We invite you to also think about the question we asked the Steering Committee as we move forward to bust stigma together:
Francis Makiya, Clinical Provider
What inspired me most was "The Abortion Diary Podcast" by Melissa Madera. She begins her podcast with a powerful message "Abortion happens every day. Millions of people around the world will have an abortion each year, but the majority of people will never talk about their abortion experiences".
Melissa Madera uses real life examples in efforts to end abortion stigma. In her podcast she shows that Abortion is Normal.
Joanna Erdman, Legal and Human Rights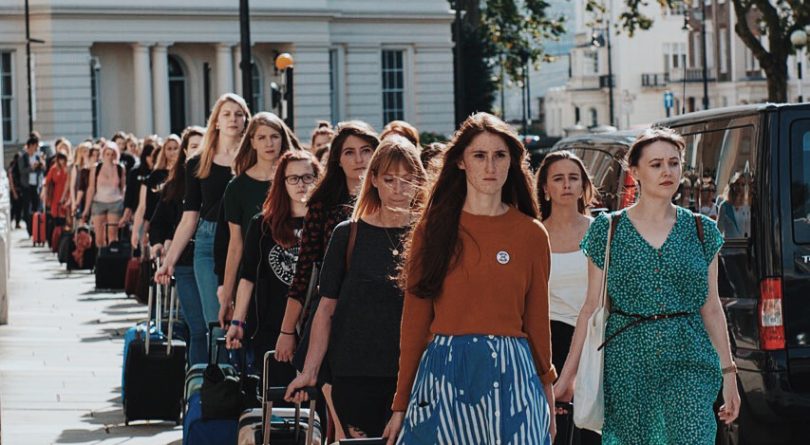 The power of people in movement captured me this year. I loved the repurposed photo of political protest to popular vote in Ireland's #HometoVote in the Referendum (by Alastair Moore). I loved the ocean of green outside the national Congress in Argentina, the power of the pañuelo verde drawn from the Madres de Plaza de Mayo. I love how these images communicate the power of people in movement to turn history again and again.
Kader Avonnon, Youth
From this short video Pour ou contre l'avortement I just come out with the following interpretation "Abortion is health right matter. No one has enough arguments to decide who should have or in which conditions providers should provide abortion services."
Katie Gillum, inroads Ex-Officio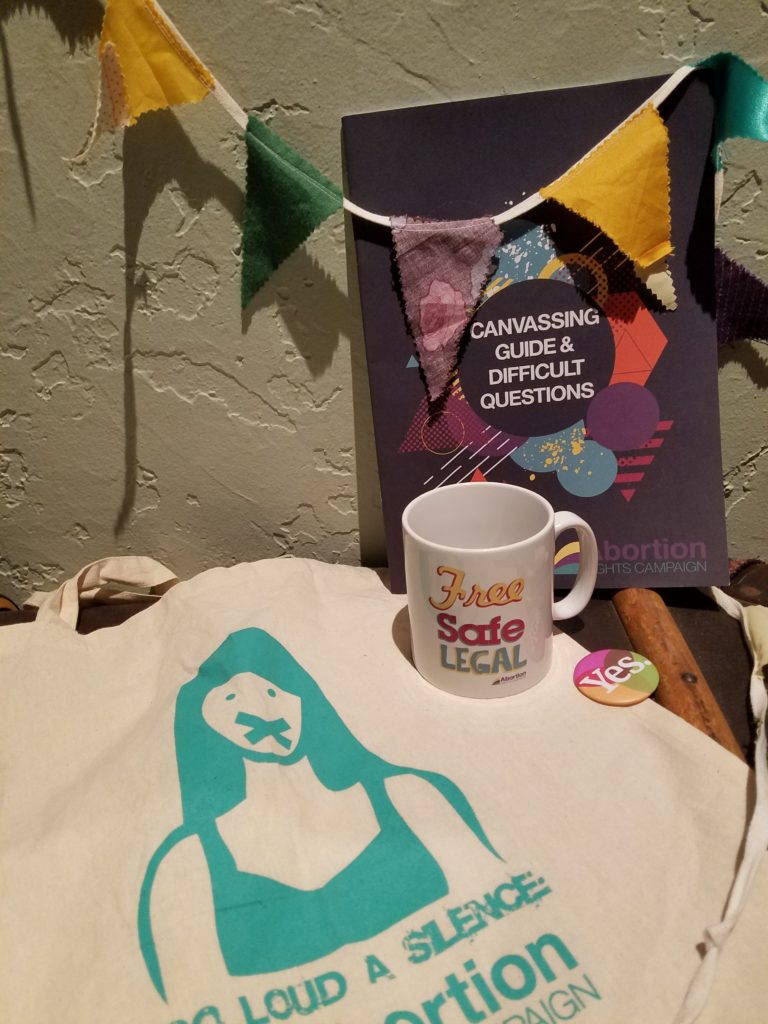 I cut my abortion activism teeth on the mean streets of the 8th Amendment in Ireland, and after studying and finding stigma to be a central cause of abortion staying restricted and silenced and erased there, I helped start the Abortion Rights Campaign. ARC took as a founding principle the need to make abortion visible, to destigmatize abortion, and to make abortion entirely free and entirely safe and entirely legal. There were many opportunities to accept false access from the opposition or accept half measures under the pressure of allies, and ARC stayed as idealistic about abortion being valuable and connected to our dignity and humanity. That commitment to refusing the narrative and false choices stigma pushes on us (and so much back breaking mobilizing) is what won the referendum. It's what inspires me every day, and here is a picture of just a small collection of the objects that fill my office and home and keep me in that place if idealism, commitment, and possibility.
Kinga Jelinska, Self-Managed Abortion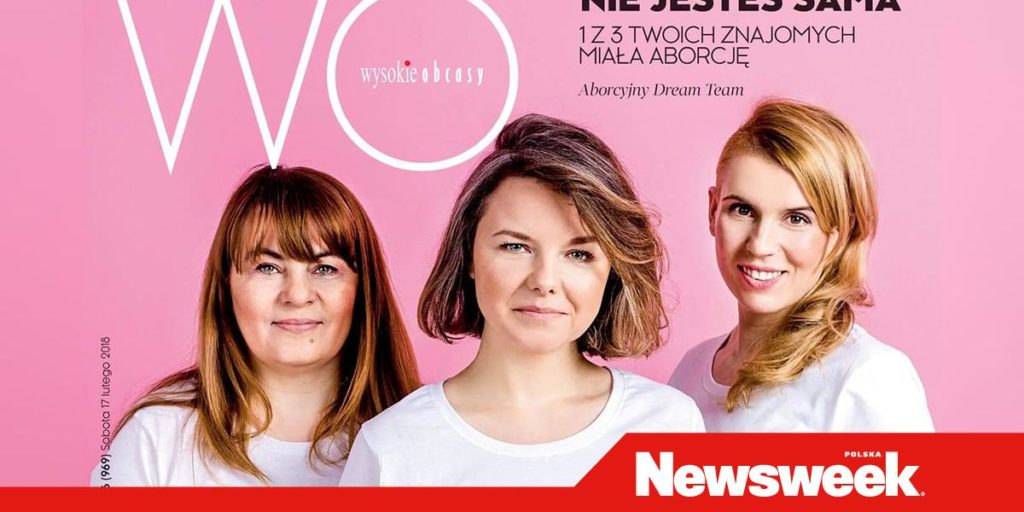 A kick-ass stigma busting media moments happened in Poland in 2018: a scandal aka "the covergate" when the activists from the Abortion Dream Team were featured on the cover of a popular magazine with a slogan "Abortion is okay", large billboards all over the country expressing solidarity with people that had abortions, and a pro-choice celebratory march. After years of media portrayal full of stigma, propaganda, fabricated drama, fake news, abortion has finally deserved truth, love, compassion, glitter and glee.
Kristen Shellenberg, Network Research and Evaluation
In 2018, I started following "The Abortion Dream Team" (@aborcyjnydream) on Instagram and regardless of whether their post is something technical about abortion, a statistic, a photo, or some type of amazing artwork, the posts always remind me to be my most openly pro-abortion self. As we roll in 2019, I definitely plan to look to @aborcyjnydream Instagram posts for inspiration in the ongoing battle of busting abortion stigma."
Laura Hurley, Institutional
One of the most powerful films I watched in 2018 was '120 BPM', a portrayal of the HIV/AIDS activist movement in France in the 1990s. This film is ostensibly a love story but also contains fierce anger and struggle, beautiful queer sex scenes, complicated friendships and a very realistic sense of what day to day activism actually looks like. I am very inspired by the work of those in the ACT UP movement in fighting not just the stigma those living with HIV face but also structural oppression, and highly recommend the documentary United In Anger which is available to view on YouTube.
Madeleine Belfrage, Development and Sustainability
So many inspiring things happened in 2018, but I sobbed over the photos and stories of the #hometovote campaign in Ireland as people returned home to vote to repeal the 8th amendment. It really reminded me of the power of everyday people in transforming abortion stigma, something I will take with me into 2019.
Maria Luisa Sanchez- Fuentes, Latin America and the Caribbean
A quote from a Mexican provider. "Cierro el año agradecido por lo aprendido, con alegría, con empatía, y sin juicios de valor, con las mujeres que deciden abortar". Dr. Geovanni Ortíz (Clínica Medieg-Prestador-México) Me siento parte de este logro, no cabe duda que el trabajo en equipo, hace la diferencia! And this other one, which is a photo.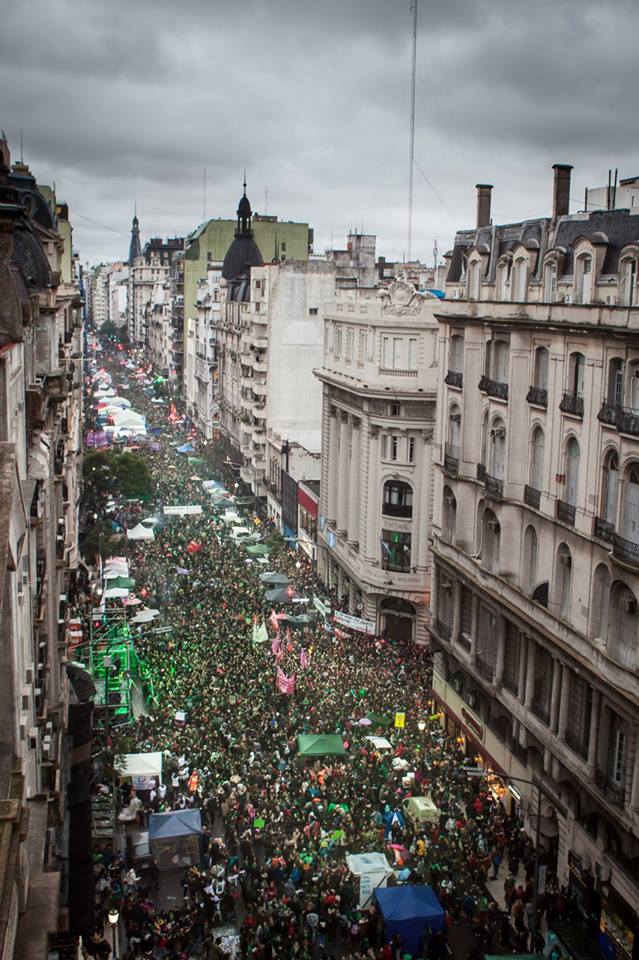 Marietta Wildt, Europe
I read a poem by Adrienne Rich called Song
You're wondering if I'm lonely:
OK then, yes, I'm lonely
as a plane rides lonely and level
on its radio beam, aiming
across the Rockies
for the blue-strung aisles
of an airfield on the ocean.

You want to ask, am I lonely?
Well, of course, lonely
as a woman driving across country
day after day, leaving behind
mile after mile
little towns she might have stopped
and lived and died in, lonely

If I'm lonely
it must be the loneliness
of waking first, of breathing
dawns' first cold breath on the city
of being the one awake
in a house wrapped in sleep

If I'm lonely
it's with the rowboat ice-fast on the shore
in the last red light of the year
that knows what it is, that knows it's neither
ice nor mud nor winter light
but wood, with a gift for burning

I really liked the line about the woman driving alone without being lonely. It reminded me of making self-determined decisions. The poem also inspired me to read "Of Woman Born" by the same author which challenges many assumptions about taking motherhood as an institution for granted. Also, my favourite German person talking about feminism etc is Carolin Emcke, highly recommended on many topics, esp. on talking to anti-choicers.
Melissa Madera, North America
My life's work is focused on offering people a space to share their full, unmediated abortion experiences (and I am committed to listening to all that are offered to me) so it's probably not surprising that over the past few years I have been pretty obsessed with reading abortion memoirs (it's probably not a "real" genre, but I'm making it one). There aren't many, but I read all the ones I can get my hands on. I began with reading Irene Vilar's Impossible Motherhood and continued with Annie Ernaux's Happening (L'Événement), Kassi Underwood's MAY CAUSE LOVE, Mira Ptacin's Poor Your Soul, Colombe Schneck's Dix-sept ans (which I painstakingly cut and pasted in to Google Translate since I don't know French) and Abby Minor's chapbook of abortion poetry Plant Light, Dress Light. These are not side-notes, but deep dives into their abortion experiences. Reading them has not only brought me joy, connection, and deeper understanding, but also healing around my own abortion experience (just as listening does). They are all powerful, stigma-busting, and real.
In 2018 I started reading Marianne Apostolides' Deep Salt Water and am still reading it. I'm slowly savoring every word because I don't have another abortion memoir to read on my nightstand.
In 2019, pick up one (or all) of these gems (or choose one for your next book club). I promise that they will inspire you to continue the hard and (seemingly) never-ending work we do to de-stigmatize abortion. They sure do that for me!
For more information on our wonderful new steering committee, you can find their bios on the announcement of the steering Committee, soon on the who makes inroads page, and stay tuned for individual spotlights throughout the year!